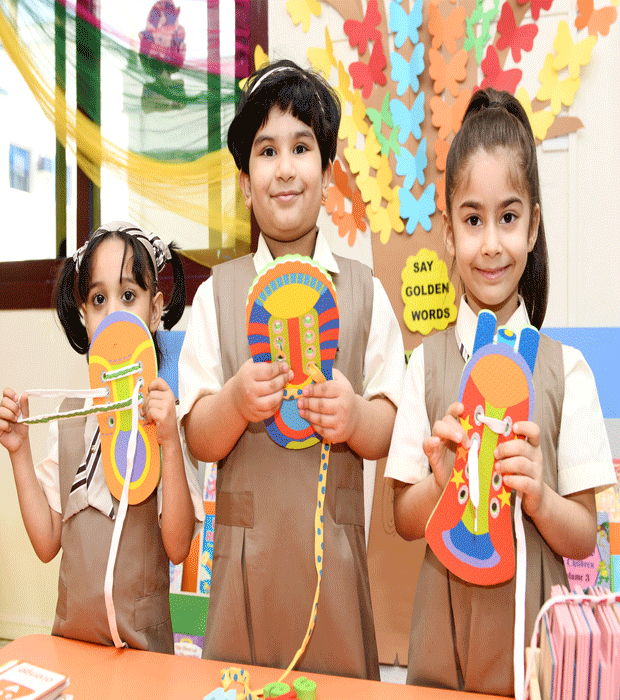 Requirements and Eligibility
ADMISSION GUIDELINES
In all cases, admission procedures laid down by the Sharjah Private Education Authority (SPEA) have to be adhered to. Admission guidelines are as per current regulations and are subject to change.
| | | | | |
| --- | --- | --- | --- | --- |
| Grade | Minimum Age | DOB from | DOB till | Age |
| KG 1 | 4 | 01/04/2018 | 31/03/2019 | 4 years |
| KG 2 | 5 | 01/04/2017 | 31/03/2018 | 5 years |
| Grade 1 | 6 | 01/04/2015 | 31/03/2017 | 6-8 years |
It is mandatory to submit the following documents for admission:
Duly attested Transfer Certificate & attested Final result of the last Grade (except for KG1, KG2 & Grade 1) for admissions in the beginning of the academic year.

Admissions for all Grades including KG1, KG2 & Grade 1 will require a duly attested Discontinued / Running TC, Final result of the Previous Grade and 1st Term / Periodic Test Result of the current Grade if the admission is done after the 1st Term.

Duly attested Transfer Certificate & attested Annual Result of Grade 9 will be required for admission in Grade 10.

Duly attested Transfer Certificate & attested Annual Results of the last two grades for registration in Grade 11 and Grade 12.

Equivalency certificate from MOE UAE is also mandatory for admissions in Grade 11 & 12.

Applicant's birth Certificate in English/Arabic. (2 copies)Immunization Certificate (2 copies)Applicant's valid passport (minimum 6 months validity).

All 3 pages, 1st & last page of the passport and the visa page to be on the same side of a single sheet as per MINISTRY requirement.(3 copies)Valid residence visa of the applicant (minimum 6 months validity) (3 copies)Emirates ID card of the applicant (minimum 6 months validity).

Both the sides of the card to be copied on the same side of a sheet. (2 copies)Parents' valid passport & Emirates ID Card (1 copy)Applicant's recent photo (4cm x 6 cm) ( 4 photos)

For students coming from India: Transfer Certificate and Results issued abroad (outside the UAE) must be attested by the District Education Officer in India, or relevant authority; Indian Consulate in Dubai and the Ministry of Foreign Affairs, Sharjah. KG1 , KG2 & Grade 1 new admissions are required to submit the same if admitted after the 1st term.
For students coming from Gulf countries other than the UAE: The Transfer Certificate and Result should be attested by the Ministry of Education of that country, its embassy in the UAE and Ministry of Foreign Affairs Sharjah.
Students coming from within the UAE: Are required to submit the original Transfer Certificate / School Leaving Certificate(Arabic) of the school last attended, duly attested by the Ministry of Education and the Result of the previous Grade.


Admissions are subject to availability of seats, merit and the screening conducted in the school.

NOTE: The Principal reserves the right to refuse admission to any student whose character and conduct or academic performance is not satisfactory.
Withdrawal:
The Transfer Certificate (T.C.) application form is available online. Parents may log in to GEMS Parent Portal the username and password provided to them by the school and apply for T.C.

Parents are requested to collect the Medical Record of their ward from the Medical Room after collecting the TC.
Student Leave Policy:
Students will be granted leave only if they fulfill the following criteria:
Illness that is documented by a doctor's report certified by official medical authorities.

Travel outside the UAE for the purpose of accompanying a relative of first degree relation during medical treatment under condition of proof (via an official accredited certificate) a period not exceeding one month during the academic year, extendable through permission of the director of the educational zone or authorized educational authority. Evidence of being outside the country must be testified by the UAE's embassy in that country.

Death of a relative (of first and second degree relation) for a maximum period of three days.

Absence for a period of a day or two consecutive days up to a maximum of five days during an academic year for reasons accepted by the school administration.

Students can be suspended from school in case of: Unexcused absence exceeding ten consecutive days or fifteen in consecutive days during the academic year. Prior to expulsion the student must receive three official warnings at a rate of one warning for each three days of absence.
Click here to Enroll Online