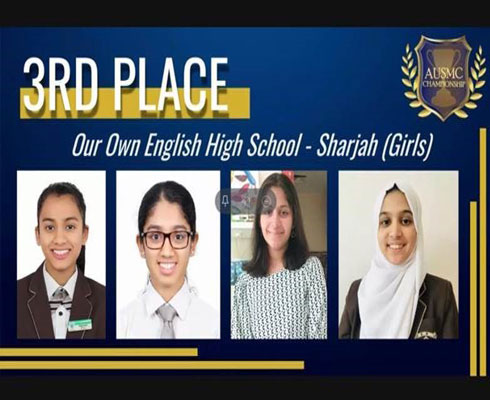 AUSMC Championship Report 2020
"Exploring new areas and venturing into new adventures"
November 3rd 2020
Our Own English High School, Sharjah (Girls) have once again proved their mettle by bagging the 3rd place amongst 16 schools that were shortlisted at the first University level AUSMC Championship organized by the American University of Sharjah.
Kudos to the team comprising of Aneira Pereira 11J, Izma Fatima 11L, Nandita Pramod 11L and Srinidhi Gautam 11K for their persistence,perseverance and endurance in consistently preparing week after week throughout out the month of October. The time and effort invested has paid rich dividends.
As a team they have once again proved that Our Own Sharjah equips its students to venture into new adventures and ensures that they are always prepared to meet any uncertainties.