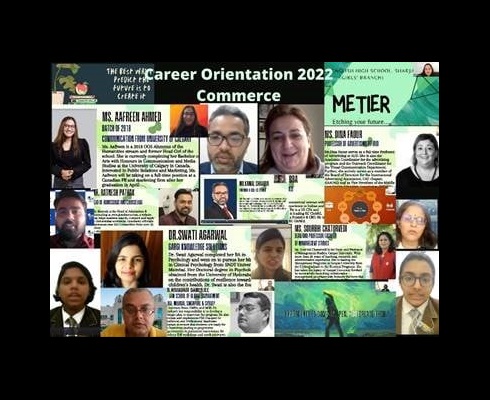 Virtual Career Orientation Program
Career Orientation 2022
Our Own English High School Sharjah, Girls hosted a
Virtual Career Orientation Program
via Zoom for students and parents of
Grades 11 and 12 on the 6th of February, 2022.
The program aimed at helping students see a variety of available academic possibilities that would help them through their preferred learning styles, and develop plans to reach their educational and occupational goals.
A Panel discussion was held where specialists from diverse professions gave insights into their jobs, organizations, and career options in their respective disciplines. The panel consisted of experts from fields like medicine, innovation, trends in digital marketing, clinical psychology, environmental sciences, forensic science, psychology and teaching, business management and finance, advertising, and also included agencies for admissions, and visa processes to name a few. During the discourse, students interacted with the panelists and put forth their queries concerning graduation admissions and procedures for their desired universities. The session was an apt platform to prepare for the youth of today for forays into the myriad career opportunities available as they etch their future plans.