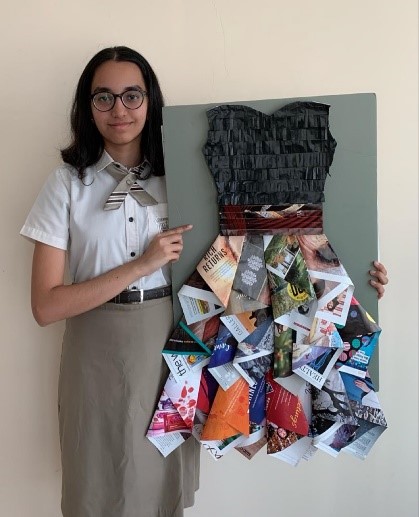 Rags To Riches
4th June 2020
"The heart is like a garden. It can grow Compassion or Fear, Resentment or Love. What seeds will you plant there?" - Jack Kornfield
An online exhibition was organised for students of Grade 10 on 4th June 2020. The main notion of organising this exhibition was to bring out the essence of the lesson 'The Hundred Dresses – Part 1 and 2 from the CBSE prose textbook for Grade 10. The students were given a week in scaffolding this activity. The exhibition was held during the online remote learning English sessions for Grade 10B, 10C, 10E. 10L and 10M.
It was a platform for students of Grade 10 to display their talent in creating trendy dress designs using recyclables, old clothes, etc. It was not only an online remote learning session but also exhibiting an array of mesmerizing creative dress designs titled 'Rags to Riches – Zero Waste'.
Students presented active participation and talked about their creativity in brief. They gave their impressions, inputs to protect our environment. Students used recyclables like plastic bags, aluminium foils, newspapers, cans, unwanted dresses, curtains and parchment papers, etc.
This occasion was organised to commemorate the World Environment Day, which is celebrated on 5 June every year. Students also expressed their views on how nature is being harassed and tortured every single day by humankind, due to his greed and selfish needs. They pledged to wake up to make a change for a better world for the entire human race, beginning within their school, neighbourhood and their surroundings.
They felt that this exhibition had surely unleashed their creativity and are hoping for such exhibitions in the future. The Supervisor, teachers and parents who graced the online exhibition, added spice to make this event a grand success. As quoted by the Supervisor, "Learning has been taken to a higher level, from online teaching and learning, to one step ahead celebrating World Environment Day and exhibiting creativity of student's talent".