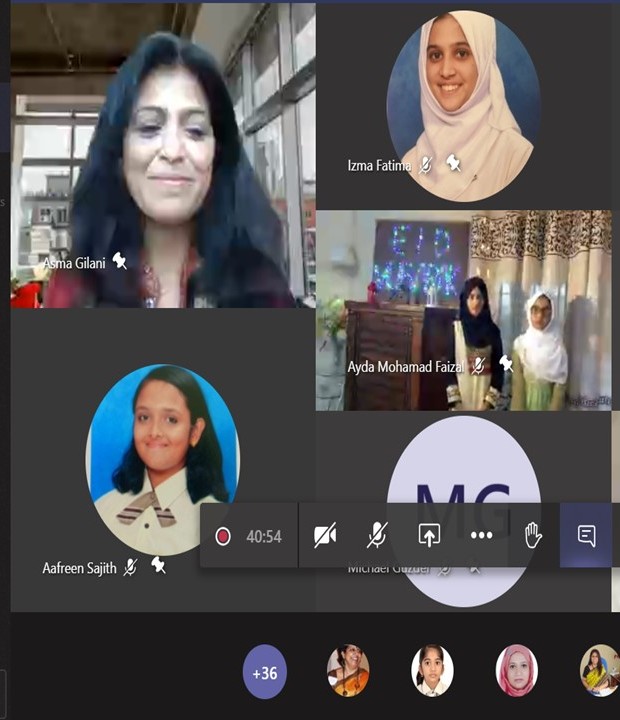 Eid Milan
24th May 2020
On the eve of Eid-ul-Fitr, OOEHS proudly hosted the one of a kind Eid Milan Party online to celebrate the spirit of Eid amidst the COVID crisis and meet the students and their parents on the joyous occasion to share the felicity. The event was held to allow students to enjoy the festival while also respecting the social distancing guidelines.
The event commenced with Asma ma'am's cordial welcome and warm greetings to all the parents, students, staff members and Mr. Micheal Guzdar. This was followed by a speech made by Izma Fatima of 11 L, recounting on the uniqueness of this year's Eid.
The speech was followed by a melodious Ghazal by Aafreen Sajith of 10 J. The marvelous rendition touched the hearts of all listeners as it elaborated on the emotions that this eid amidst the COVID crisis made all of us experience.
Zainab Faizal of 11 J and her sister then brightened the atmosphere with the wonderful eid greetings through an energetic nasheed. Iliyah Shaik of 5 C then went ahead to narrate her experience of eid in these unconventional circumstances.
Mr. Micheal Guzdar, a special guest in the event, then applauded the OOEHS department for their unorthodox and extraordinary initiatives and congratulated the institution for winning the Sharjah Excellence Award. He further commended the school for the wonderful event. Our Headmistress Ms. Hemlata Thawani also took this opportunity to thank the students and parents for their presence and extended her greeting for the festival to all attendees.
Furthermore Anagha Rajesh, an OOEHS alumni and the former President Student Council, also attended the event and expressed her joy on being a part of the event. Jehan Ibrahim of 7 K along with her father, who attended the event, also expressed their pleasure to attend the event and shared their experiences.
The event was therefore a successful medium to bring together the students, parents and staff of OOEHS Sharjah Girls Branch to celebrate the festival of Eid even amidst the pandemic and share their joy and positivity.