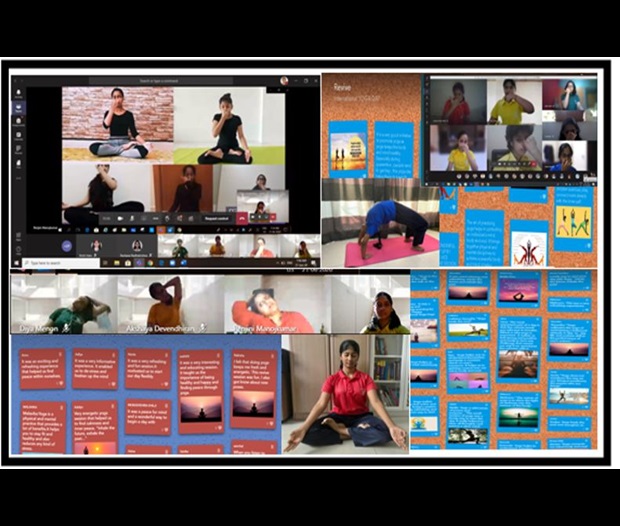 REVIVE
21st June 2020
"Inhale the Future and Exhale the Past"
As a part of our celebrations for the International Yoga Day the student leaders have put together a small one-day initiative – "REVIVE- A SOUVENIR OF HARMONY AND A TOOL FOR LIFE". And once again we Ourownites have proved that virtual barriers don't stop us. During this pandemic it is important to keep a check on ourselves and yoga not only keeps us on track but helps us to find our inner peace increase our concentration and helps develop a better perspective to life and keeping this in mind "REVIVE" aimed to encourage community and connectedness among and within the students and also to empower students to support their own health and well being in and out of the classroom.
REVIVE comprised of a yoga tutorial created and starred in by [Evelyn Tessy Emmanuel 11-D, Aditri Monish 6-N, Devna Prakash 6-R, Parvathy Ramadas 10-L, Amritha Ravichandran 10-M ] the students of Our Own English High School Shj Girls, showcasing simple yoga warm ups, stretches, breathing exercises, meditation and a few yoga poses. Students were encouraged to follow the detailed instructions given and to make yoga a common practice in their day to day lifestyle. A common platform was created in Near pod for the students to share their thoughts and yoga practices. They educated each other on the importance of Yoga and meditation and why it should be a part of our everyday life. REVIVE was a great platform for the students to be a part of the International Yoga Day celebrations during the pandemic.
This activity was highly fruitful and filled the students with energy and motivation to tackle their day ahead.