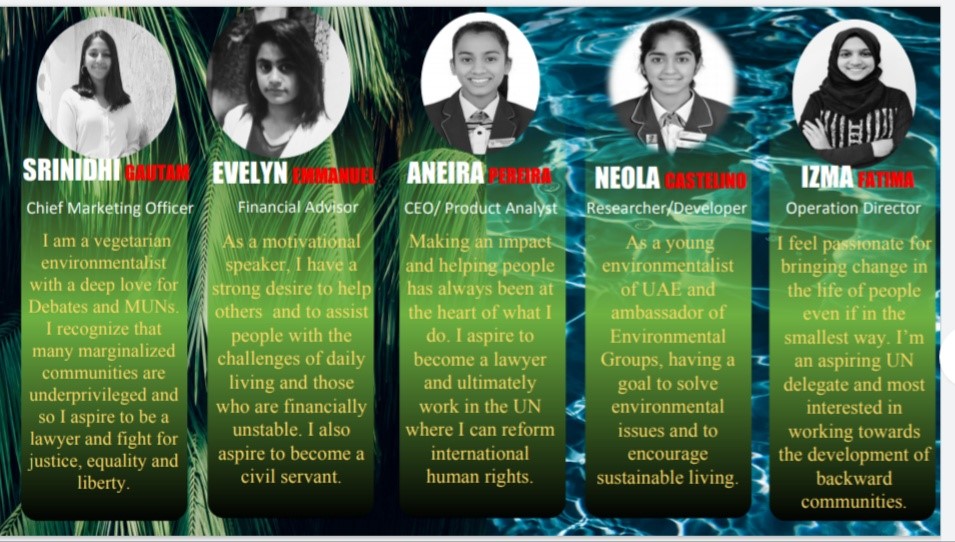 OOS - SHERAA 2020
March 2020
The Sharjah Entrepreneurship Centre (Sheraa) that launched the Online School and Start-up Sharjah, introduced a new initiative and concept that commenced in March 2020 for students of Grade 10-12 across Sharjah schools. The journey began with 8 students, Diya Menon, Aneira Pereira, Izma Fatima, Neola Castelino, Teresa Kuruvila, Serin Ann Biju, Srinidhi Gautamsarathy and Evelyn Tessy from grade 11. They had to undergo the 5-week initiative focused on developing our aspiring Young Entrepreneurs giving them an opportunity to develop and showcase their skills and interest in this area. The intensive boot camp to build their startup, from idea to prototype was altogether a new experience for our students.
After a grueling 8 week intensive mentoring with various business mentors, design thinking and marketing of their idea, OOS team comprising Aneira Pereira, Izma Fatima, Neola Castelino, Srinidhi Gautamsarathy and Evelyn Tessy delivered their price winning pitch and cracked the rigorous interview which earned them the 3rd position among 200 students who participated in the virtual competition.
The winning team will receive a cash prize of Dhs 2500 that will be awarded by Sheikha Bodour Al Qassimi in an elaborate award ceremony, once students resume their school year in September. They now have an opportunity to pitch their concept to a broader audience in the month of December at the Sharjah Entrepreneurship Festival.
The event brought together aspiring entrepreneurs with backgrounds in business, design, coding and marketing to rally around great ideas, racing to bring them to life. This workshop provided students with lifelong learning.