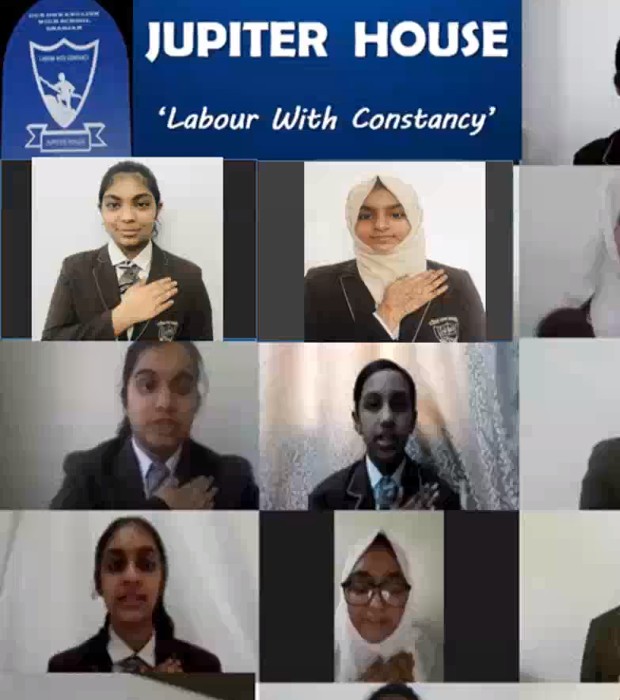 Prefect Investiture Ceremony - 2020
6th June 2020
The first virtual Investiture Ceremony of Our Own English High School, Sharjah (Girls) for the academic year 2020-21 was held on 06th June 2020 with great pomp and dignity, on the digital portal Microsoft Teams.
The ceremony was presided over by a special Chief Guest, Ms. Dr. Noura Al Hinai, a well-known academician, author and an engineer, administrating as the Associate Director – Student Records and Admission at HCT.
The event was conducted with earnestness and passion, which commenced with the supplication to the Almighty, by reciting verses from the Holy Quran.It was a moment of pride when the Principal administered the oath and conferred the badges to the newly invested office bearers. The Headmistress Ms. Hemlata Thawani administered the oath to the Captains and Vice captains, followed by the Head of Section - Senior school, Ms. Rachel Pereira, administering the oath to the Prefects of all the four Houses. All the student leaders pledged to keep the banner of the school fluttering high.
The Chief Guest Dr. Noura Al Hinai congratulated the student leaders. Dr. Noura won the heart of everyone through her inspirational speech, giving an account of her ceaseless efforts and determination to achieve her goal. The powerful address kept the spectators spellbound and instigated them to work with zeal and zest.
This was followed by the address of the Head Girl, Sreelekshmi Subhash, who pronounced her journey at Our Own High School, Sharjah (Girls) where she started as a student and gradually rose to the lead the student community. The ceremony culminated with the vote of thanks by Arya Suneesh, the President of Student Council, extending her heartfelt gratitude to the Heads of the school, teachers and parents.
The function concluded with a beautiful live rendition of the school song displaying an array of committed members who strived a long way to make this event a grandeur.