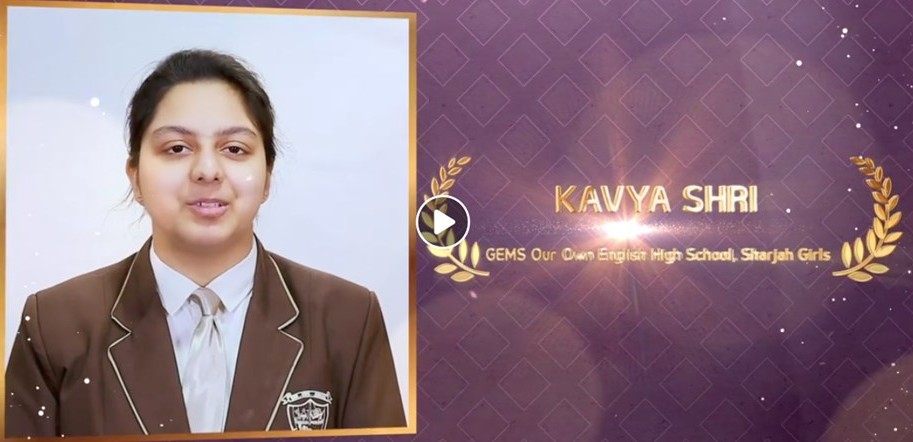 Sheikha Fatima Bint Mubarak Award for Excellence 2020
24th April 2020
Her Highness Sheikha Fatima Bint Mubarak Award for Excellence has always been a prestigious honor and a boundless inspiration for any student. The award, which is held under the patronage of His Excellency Sheikh Nahyan bin Mubarak Al Nahyan, recognises the achievements of one truly exceptional female student from each of the GEMS schools.
The proud recipient of this accolade from Our Own English High School, Sharjah Girls, for the year 2020 is Kavya Shri. She was honoured virtually on social media on April 24, 2020, the first day of the holy month of Ramadan,
This prestigious award which was launched in 2005, inspired by the dedication of Her Highness Sheikha Fatima Bint Mubarak, the Mother of the Nation, has demonstrated ardent and longstanding support for women's achievements. Forty one girls from GEMS Education schools across the UAE received the prestigious award celebrating their unparalleled academic performance, skills and attributes associated with global citizenship and leadership. The recipients will receive a full year academic scholarship along with a certificate.
Being the proud winner, Kavya believes that her leadership efforts and academic excellence were the driving forces behind her winning this award. She encourages her juniors to take advantage of the diverse opportunities that OOS has to offer and work hard without paying too much attention to the results. Commenting on her award, Kavya said, "It is an absolute honour. I am thrilled. And I am really grateful to the teachers and staff at my school for encouraging me and pushing me so that I have achieved this."
This endeavor to recognize and acknowledge the trailblazers of tomorrow in these unprecedented times is indeed a commendable effort.