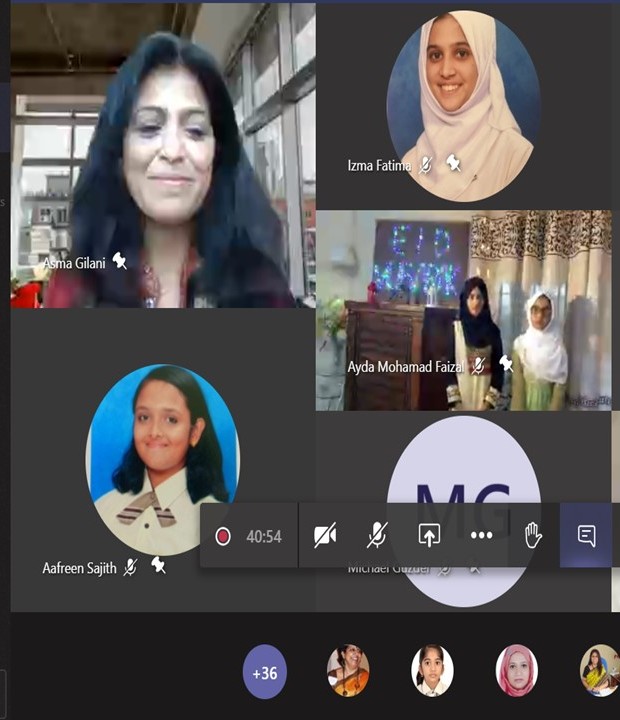 VIRTUAL EID MILAN
24th May 2020
OOS hosted, the first ever 'Virtual Eid Milan' event to celebrate the spirit of Eid amidst the COVID crisis. Adhering to the guidelines of social distancing, the students participated in the celebration with full enthusiasm and fervor . It was a delight to listen to Izma Fatima's 'All New Experience of Eid ' this year and Iliyah Shaik's description of her house turned into a mosque for the first time. Aafreen Sajith's rendition of a melodious ghazal was indeed spell-bounding! Zainab Faizal and Faiqa, the duo sisters brightened the atmosphere with a Nasheed.
The Principal , Ms. Asma Gilani felt that this year's Eid celebration will be forever etched in everybody's minds for its uniqueness. Though virtual greetings can never replace the joy of meeting friends and family members in person, COVID 19 has actually propelled us to think on ways to remain connected with our dear ones. Innovation is the keyword – we need to experiment with new ideas to forge ahead despite constraints and challenges,change our mindset to adapt to the ever-changing world.
Mr. Michael Guzder, Vice President, Indian Education appreciated the efforts of the school in maximizing technology to enhance well-being of the students and applauded the school for unorthodox and extraordinary initiatives. He congratulated the school for winning the Sharjah Excellence Award. He further commended the school for the wonderful event.
Headmistress Ms. Hemlata Thawani also took this opportunity to thank the students and parents for their presence and extended her greeting for the festival to all attendees.
Furthermore Anagha Rajesh, OOS alumni and the former President Student Council expressed her joy on being a part of the event. Jehan Ibrahim along with her father, Mr. Sangeeth Ibrahim also expressed gratitude and shared experiences of 'Eid with social distancing'.
The 'virtual world of the festival' brought together the students, parents, and staff on one portal to enjoy the spirit of fun and togetherness within the prescribed boundaries.