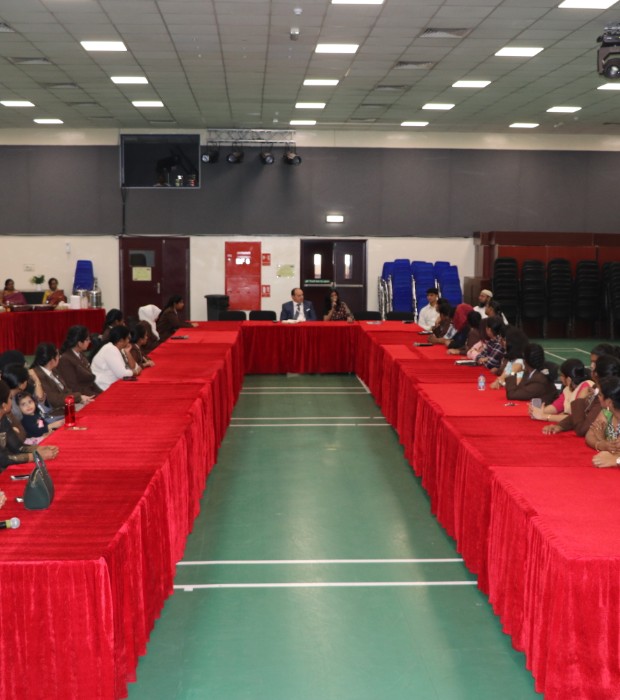 Local Advisory Board
The Local Advisory Board functions primarily as an advisory board and holds an important strategic role in overseeing the achievement of the school's strategic aims and objectives.
The LAB will:
Understand and uphold the school's and GEMS vision and values.
Monitor, advise and support the school on matters of strategy and policy.
Help monitor the school's standards and performance.
Support the school and the Principal and seek to provide wise counsel.
The Board
| | | |
| --- | --- | --- |
| Grade /Section | Name of the Student | Name of the Parent |
| KG2C | Aaira Afzal | Asna Afzal |
| KG2E | Tirza Ann Niju | Mayja Mary |
| KG2G | Amrin Zainab Sayid Abdushameer | Shirin Mandodan |
| KG2H | Gareema Sonowal | Jimani |
| KG2H | Vedha Riju | Nimisha |
| 1C | Amaarah Susmin | Farhana Susmin |
| 1P | Rebecca Mariam John | Tina John Mathew |
| 1I | Sriyansi Edhunuri | Usha Sri |
| 1F | Jeshika Kasilingam | Chitra Kasilingam |
| 2B | Anabia Fatima | Humera Farheen |
| 2M | Joan Joseph Jeejo | Amlu Treesa Jose |
| 2H | Minakshi Seghar Menon | Premaja Menon |
| 2L | Elizabeth Maria Celestine | Anu Celestine |
| 2L | Jazaah Shabeer | Shabeer Musliyamveetil |
| 3A | Kanishka Doulatani | Nisha |
| 3C | Shikha Jayprakash | Rema |
| 3H | Kalyani Manoj Kumar | Ragitha Manoj Kumar |
| 3B | Dishita Amit | Ashwitha Amit Sangani |
| 4F | Amber Kaur Bhullar | Avani Ladhake |
| 4K | Parvathy Harish | Harish Unnikrishnan |
| 4K | Sharon Grace | Jayaprakash Selesteen |
| 4M | Deekshitha Rathish | Ratheesh Kumar |
| 5N | Vyga Shiju | Sajitha |
| 5F | Hannah Biju | Fejin Biju |
| 5B | Sanandhana Dhanagopal | Radhika Nandhini |
| 5D | Megavarshini Ramesh Kumar | Sathiya |
| 6D | Amellia Ann David | David Mathew |
| 6N | Jouelle Geraldine Desouza | Paul Francis Desouza |
| 6E | Aarika Ajesh | Asokan Ajesh |
| 6A | Tariqua | Mohammed Elyas |
| 7E | Esther Lejo John | Lejo John |
| 7F | Maria Rahul | Leena .M.Koshy |
| 7I | Avni Mariam Paul | Asha Paul |
| 7D | Madhuryaa Mahendran | Lakshmi Priya Mahendran |
| 7H | Mythili Rajith Nambiar | Sreya Nambiar |
| 8D | Varshini Dhanya Jeyakumar | Bindu. T |
| 8E | Kohna Dhanraj Baviskar | Manisha Dhanraj Baviskar |
| 8H | Maryam Muhammad Ilyas | Khadeeja Ilyas |
| 8K | Varada Gopakumar | Remya Gopakumar |
| 8D | Abigail Leann D Souza | Taniya D'souza |
| 9J | Ananya Puranik | Shilpa Puranik/ Swanand Puranik |
| 9K | Lavanya Vaity | Keshav Vaity |
| 9E | Kashika Manoj Shetty | Manoj Shetty |
| 9O | Medha Gautam Sarathy | Parthasarathy Gautham |
| 10A | Dolly Dinesh Shivlani | Dinesh Vasu Shivlani |
| 11B | Neha Santhosh | Preetha Kumaran |
| 12J | Mekhla Maria Banz | Nithasha Banz |