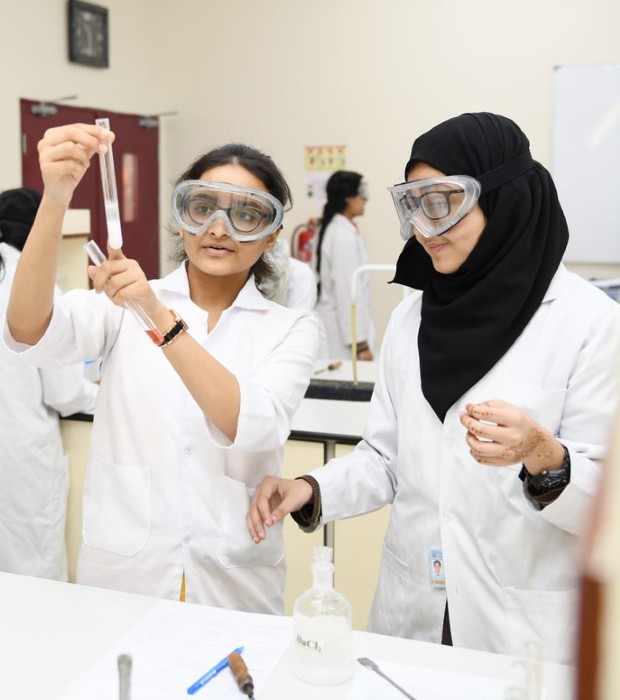 Senior School
Grade XI - XII
Welcome to the Senior School at Our Own English High School Sharjah Girls
This is the Plus Two Stage in the 10 + 2 pattern of education leading to the All India Senior School Certificate Examination conducted by the Central Board of Secondary Education, New Delhi.
For the purpose of fostering competences in learners, the curriculum encompasses seven major learning areas, which are: Languages, Humanities, Mathematics, Sciences, Skill Subjects, General Studies, Health and Physical Education. These areas are broadly divided into electives and compulsory subjects.
The curriculum emphasizes the application of knowledge and skills in real life-problem solving scenarios rather than rote learning. Classroom teaching is complemented by laboratory work, audio-visual lessons and student-led research work.
Seminars and workshops by professionals from various academic and vocational fields are arranged to help students narrow down their choices to the field they would like to pursue
Subjects offered at the Senior Secondary School Level
Science Stream

Commerce Stream

Humanities Stream

English Core

English Core

English Core

Physics

Economics

History

Chemistry

Accountancy/Cost Accounting (Skill Subject)

Sociology

Biology/Computer Science/Economics (Any one)

Business Studies/Business Administration (Skill subject)

Political Science

Mathematics/ Informatics Practices/Home Science/Psychology

(Any one)

OR

Any one of the following skill subjects – Food Nutrition and Dietetics/ Information Technology/ Artificial Intelligence

Mathematics/

Applied Mathematics /Informatics Practices/Home Science/Psychology (Any one)

OR

Any one of the following skill subjects – Marketing/Food Nutrition and Dietetics/Information Technology/Multi Media

Psychology/

Economics/Home Science (Any one)

OR

Any one of the following skill subjects – Multi Media/Marketing

Arabic (Optional)

Arabic (Optional)

Arabic (Optional)

Islamic Studies

Islamic Studies

Islamic Studies

Physical Education

Physical Education

Physical Education

Work Experience (SEWA)

Work Experience (SEWA)

Work Experience (SEWA)

General Studies

General Studies

General Studies
Subject Overview
Accountancy

Applied Math

Artificial Intelligence

Biology

Business Administration

Business Studies

Chemistry

Cost Accounting

Economics

English

History

Home Science

Mathematics

Multimedia

Physics

Political Science

Psychology

Sociology
Subject-wise Curriculum for Grade-11
Accountancy

Applied Math

Artificial Intelligence

Biology

Business Administration

Business Studies

Chemistry

Computer Science

Cost Accounting

Economics

English

Food Nutrition and Dietetics

History

Home Science

Informatics Practices

Information Technology

Islamic Studies

Marketing

Mathematics

Multimedia
Subject-wise Curriculum for Grade-12
Accountancy

Applied Math

Artificial Intelligence

Biology

Business Administration

Business Studies

Chemistry

Computer Science

Cost Accounting

Economics

English Core

History

Home Science

Informatics Practices

Information Technology

Islamic Studies

Marketing

Marketing

Multimedia

Physics