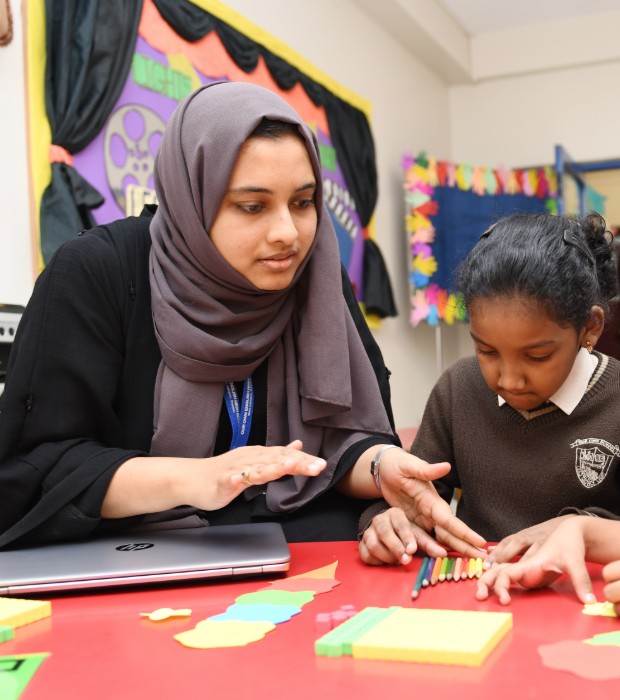 Counselling and Learning Centre
The Counselling and Learning Centre at OOS strives to enhance the wellbeing of students by facilitating their emotional, interpersonal, and intellectual progress. This is accomplished by providing counselling to students and parents, advocacy and referral services and learning support to students.
The counsellor/special educator assists students in the areas of academic achievement; personal/ social development and career development, ensuring that today's students become the productive, well-adjusted adults of tomorrow. To meet the needs of all students today and tomorrow, the department provides a balance of direct and indirect services and activities.
In Kindergarten, the emphasis is laid on the development of fine motor skills, socialization, pre-reading and writing skills and identifying developmental delays.
In the Primary school, emphasis is laid on skill development, stressing on concept development and acquisition of social skills needed for interpersonal relationships,
In the Middle school, emphasis is laid on the rapidly changing needs of pre and early adolescents. The areas emphasized in the Primary school are continued, but are adjusted to fit the unique needs of students in the Middle level age group.
In the Secondary and Senior school, students are assisted to become responsible adults who can develop realistic and fulfilling life plans based upon a clear understanding of themselves, their needs, abilities, interests and skills.
Some of the services provided by the department include:
Individual and group counselling.

Out of class support sessions.

Student and parent counselling and peer support.

Assisting students with academic, emotional and behavioral concerns and

career guidance to high school students.

Assisting teachers to identify and address learning and behavioral

difficulties.

Facilitating successful communication between and among teachers,

parents, and students.

Connecting students, parents and staff with specialized ministry approved

centres.

Conducting workshops to create awareness among all the stake holders.
The counselling department also runs a life skills program known as PULSE – "Personal & Universal Life Skills Education" to assist students to meet the challenges of life. The different modules of PULSE include personal grooming, table etiquette, handling emotions, self-defense, health nutrition & lifestyle and peer pressure etc.
The aim is to help students in developing healthy, fulfilling relationships and empowering students to navigate their way towards greater self-sufficiency and efficacy.
Meet Our Counselling Team