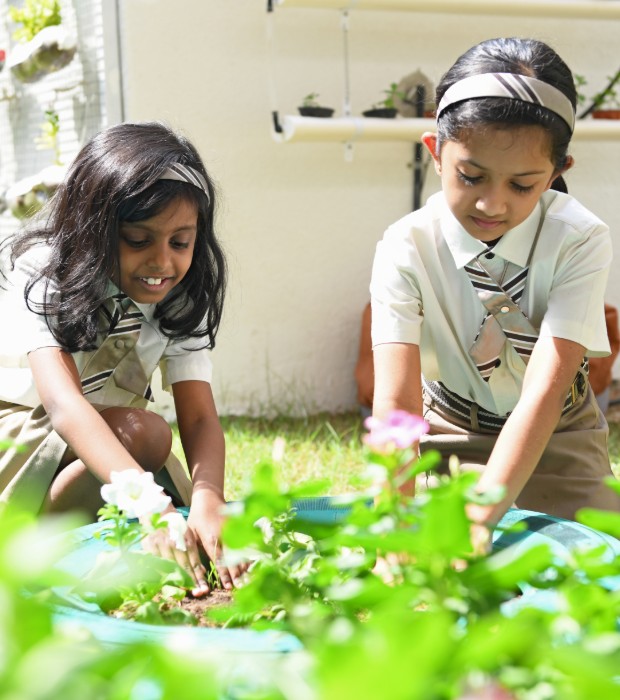 Eva Green - The Eco Club
A Sustainable Practice
To instill among students the values of positive behavior, a sense of responsibility and to empower them with sustainable practices. Eva Green - The Eco Club of the school provides opportunities for students to explore and create solutions through various Eco initiatives. The club is operated by an environmental leadership team who monitor and implement step-by-step guidance in waste management, water and energy consumption as well as in biodiversity.
Eva Green conducts various activities and campaigns in the school to spread awareness among the students and develop them into environmentally conscious citizens.
Students' talent is tapped through intra and inter-school competitions both local and global like EEG, ISRC, Desert Clean Up, Tree Plantations etc. The Eco Team (teachers and students) are provided an opportunity to participate in workshops and seminars organized by various NGOs in the UAE: EEG- Dubai, Bee'ah- Sharjah, EPAA - Sharjah, TERI - India.
The Eva Green initiatives such as the Green House, Hydroponics, Aqua Pond and Vertical gardens have been successfully integrated into the curriculum. The aim of the Eco Club is to encourage all stakeholders to transform Our Own into an Eco - School – a symbol of Foundation for Environmental Education.
Eco Club Vision
To foster a generation of environmentally conscious citizens capable of positive action.
Eco Club Code
A healthy environment and a healthy economy; from takeover to makeover.