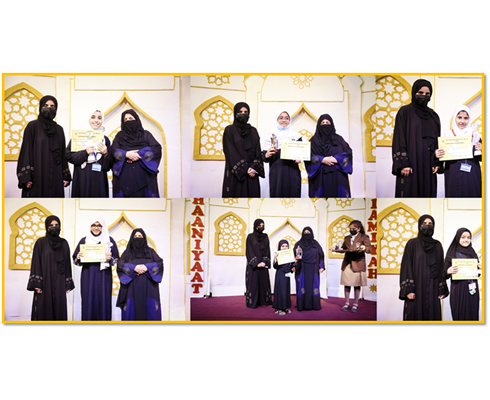 Ruhaaniyaat Islamiyah 2021
The Our Own Islamic Festival 2021
The Our Own Islamic Festival was conducted on the 10th of November with the aim to encourage students to participate in the recitation and memorization of the Holy Quran with proper Tajweed.
The event was graced by the presence of the judges - Ms. Kulthoom Mohammed Sadiq, Ms. Basmeena bint Mumin Khan and Ms. Rukhsana bint Mumin Khan, the Holy Quran teachers from Al Maktoom Centre along with Ms. Yasmeen Aftab Syed, Holy Quran teacher at Dubai Women's Association.
Head of School- Ms. Asma Gilani gave an invigorating speech on the significance of faith in Almighty and patience that has led to overcome the obstacles caused by the pandemic. The Student Council President, Izma Fatima shared her thoughts to boost the participants' confidence. November being the month of Thanksgiving, Ms Izma emphasized on showing gratitude and being thankful.