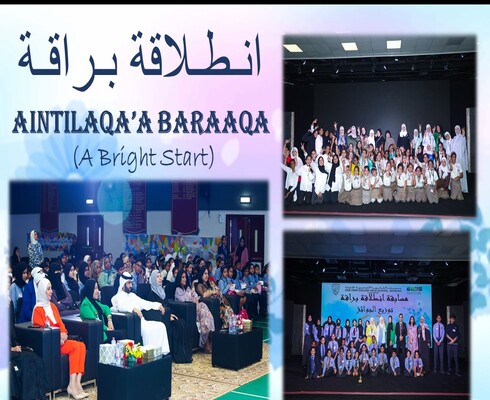 Aintilaqaa baraaqa Inter-school Arabic competition
Aintilaqaa baraaqa Inter-school Arabic competition
Aintilaqa'a baraaqa: Nurturing Arabic Excellence
"In the symphony of languages, Arabic adds its unique melody."
Aintilaqa'a baraaqa, our own first Inter-school Arabic competition series, ignited a spark of excellence on Thursday, September 14, 2023. Hosted by the Arabic Language Department, this initiative aimed to cultivate Arabic language proficiency among the students.
The competition unfolded across three captivating categories, showcasing the multifaceted talents of our students:
Arabic Poetry Extravaganza: In this category, our sub-junior prodigies (grades 1-3) wove their linguistic magic through captivating Arabic poetry.
Junior Verses: Following the sub-juniors, our junior champions (grades 4-5) stepped into the spotlight, enchanting the audience with their poetic prowess.
Theatrical Flair in Arabic: Grades 6 to 8 students dazzled the audience with an inspiring Arabic play, delving into themes of peace, cooperation, harmony, and the fight against bullying.
A constellation of esteemed institutions graced this competition with their participation. It was our school's privilege to host this event, and we inaugurated it with distinguished guests from the Sharjah Education Authority: Ms. Tahany Awad, Ms. Salama Al Suwaidi and Mr. Sultan Amula.
Distinguished judges from the Arabic Language Committee praised this initiative, emphasizing its role in promoting Arabic fluency among non-native speakers. As our school principal, Ms. Asma Gilani, aptly noted, Aintilaqa'a baraaqais a wonderful initiative that enriches our school's cultural landscape and promotes linguistic diversity.'
Westminster School Dubai secured the competition trophy, presented by Ms. Asma Gilani. This event symbolizes a successful step towards fostering a deeper understanding of the Arabic language.