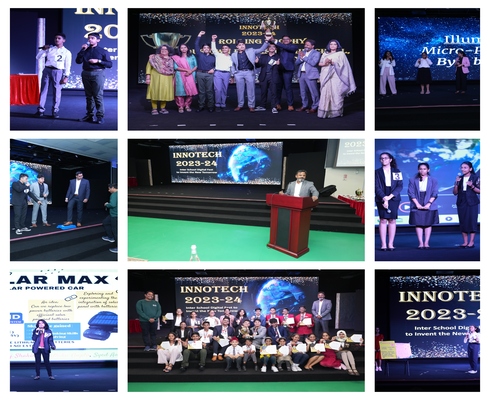 Innotech 2023
Innotech 2023
In the annals of OOS - 2023-24, INNOTECH's third act unfolded, hosted with pride by Our Own English High School (Girls). This innovative extravaganza assumed the noble task of addressing six Sustainable Development Goals (SDGs), inspiring students to craft practical solutions using technology. Its essence? To ignite inspiration in every student, inviting them on a transformative journey.
Within INNOTECH's vibrant tapestry, students brought visionary projects to life, tailored to their age groups. These ranged from heat-sensored highway and street lighting to piezoelectric-generated current for school lighting, eco-friendly community living, eco-friendly attitudes through gamification to using AI-generated art for climate advocacy. These projects reached their zenith when presented to a discerning panel of tech experts.
The event's pinnacle featured the distinguished presence of Mr. Suresh Bhadrachalam, Head of Technology Governance & Transformation GEMS IT - the esteemed event guest, delivered a compelling address, stressing technology's indispensable role in tackling future challenges. He passionately encouraged students to embrace technological advancements and extolled the merits of teamwork and collective decision-making. Ms. Asma Gilani, Principal and mentor of Our Own English High School, Sharjah, commended the students for their dedication to crafting sustainable solutions.
The seasoned adjudicator, Mr. Allan Antony D'Couth, announced the champions of innovation:
1st place: Our Own English High School Sharjah Girls.
2nd place: Our Own English High School Sharjah Boys.
3rd place: The Millennium School, Dubai.
A thunderous applause followed, echoing the announcement's significance. The climax was the prestigious Rolling Trophy awarded to Our Own English High School Sharjah Boys.
As the curtains gently descended on this transformative spectacle, the future stood radiant and promising. Envisioned and shaped by these young trailblazers, it's poised for a more sustainable, innovative, and technologically enriched tomorrow. INNOTECH, the catalyst for profound change, sowed the seeds of transformation, reaching toward a horizon aglow with limitless promise.