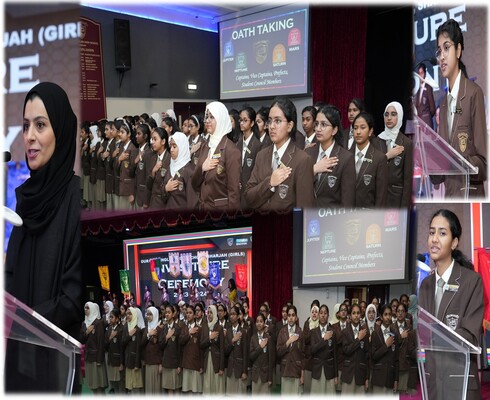 Prefects Investiture Ceremony 2023
Prefects Investiture Ceremony 2023
Leadership is the ability to transform a vision into reality. On 2nd May 2023, a significant moment of pride occurred as the newly formed student body of OOS was inaugurated at the Prefects Investiture Ceremony, which was witnessed by their parents. The Prefectural Board epitomizes tolerance, ambition, and aptitude. The ceremony highlighted the spirit of distinction and dedication to the institution's ethics that the new leadership body embodies.
The esteemed Chief Guest for the day was Dr. Noura Al Hinai, the Associate Director of Admissions and Student Information Systems at the Registrar's Office of the Higher Colleges of Technology. In her address, she inspired and encouraged the Prefectural Board to follow their passions while also respecting and valuing their parents, who know them better than anyone.
Ms. Asma Gilani, the Principal and CEO of the school, administered the oath to the newly appointed student leaders. The leaders who came before us have emphasized that leadership is not just a badge and a title, as what is essential is often invisible to the eye. Sarah Mariam Sunil, the newly appointed Head Girl, wisely stated that she believes that the invisible qualities such as kindness, humility, and empathy are the most significant qualities that leaders can embody.
The deputy leaders and prefects pledged to uphold the school's high standards, fulfill their duties to the best of their abilities, and honor the trust bestowed upon them. The ceremony was an enlightening occasion for the young leaders as they looked forward to a new, eventful, and fruitful academic year of 2023-2024.