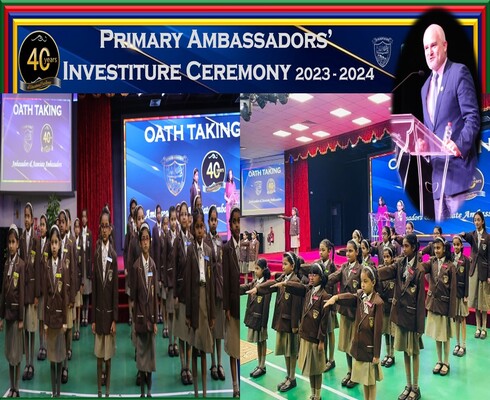 Primary Ambassadors' Investiture Ceremony
Primary Ambassadors' Investiture Ceremony
The Primary Ambassadors' Investiture Ceremony conducted on 16th May 2023 at OOS Sharjah (Girls) witnessed the Induction of the newly elected primary ambassadors - The Head Girl, The Assistant Head Girl and the student leaders handling the portfolios of Wellbeing, Eco, Digital, Sports and Culture for the academic year 2023-24.
The Principal, Ms. Asma Gilani administered the oath to the student leaders who pledged to serve with utmost sincerity and to the best of their abilities.
The esteemed chief guest of the day Mr Johannes Bodenstein, the educational advisor to the Sharjah Private Education Authority enlightened the gathering on how a leader can uplift their team and create an impact.
The Head Girl Primary Sreebhadra Krishnakumar, in her maiden speech promised to uphold the values of the school and to lead by example.
We wish all the newly elected members an enlightening leadership journey !