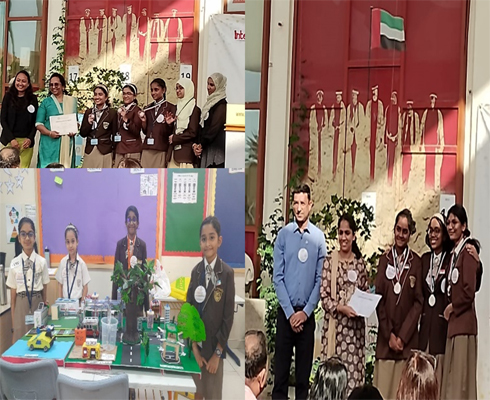 The Young Science Innovator Competition 2023
The Young Science Innovator Competition 2023
Our Own English High School, Sharjah Girls won the overall Trophy for Young Science Innovator competition hosted by Ambassador School on 26th April 2023.
The Primary Team comprising of Dishita Amit Sangani (3B), Kshipra Kishore Kundapura (4 A), Lena Murali (5 L), and Sreebhadra Krishnakumar (5 C) bagged the 1st prize in the Sci-Auto competition held under Young Science Innovator 2023 organized by the Ambassador School, Dubai on 26th of April 2023. The students created a sustainable model city with innovative transport systems – Piezo electric bus and Phoenix Car. Kudos to the young innovators.
Our young innovators of Grades 7 and 8 won the Third prize in the event - Sci Pro- Lego Team Challenge where they displayed and presented their project-OUR OWN AGROECOLOGY based on the theme 'Sustainable Agriculture- Balancing productivity with Environmental Stewardship. The team comprised of Maryam Imran and Varshini Dhanya from Grade 8 and Aditi Arun and Mythili Nambiar from Grade 7.
The students of Grade 9 - Kimberly Smily Dcosta 9H, Lavanya Keshav Vaity 9K, Sraosha Lyall Angel 9J, bagged the 2nd Position in Sci - Change symposium.
Our Young Innovators proposed innovative concepts and came up with fresh perspectives on the theme ' Sustainability Science – Innovations for a Resilient Future'The competition developed the skills needed to evaluate and to suggest alternative actions to resolve environmental problems and be better citizens of tomorrow.