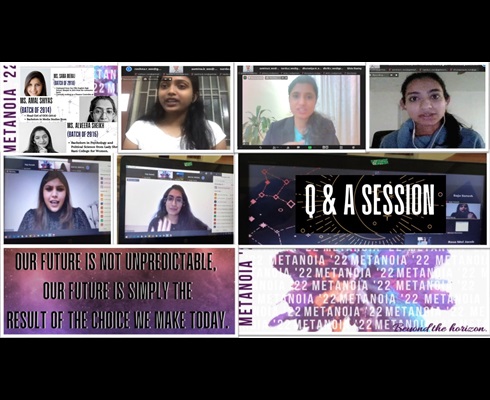 METANOIA 22 - Annual Career Orientation
Second Edition of Annual Career Orientation
"Success means having the courage, the determination and the will to become the person you believe you were meant to be." – George Sheehan
Choosing the right path is never easy. It is a decision we make with only our hearts to guide us. As the senior students inch closer to the most important crossroad of their life- choosing a career, Our Own English High School, Girls , Sharjah, took on the responsibility to provide them with relevant inspirational career guidance.
METANOIA '22, the second edition of the OOS Alumnae Career Guidance Meet was one such successful event held on the 30th January 2022 for the students of Grades 11 and 12.
The students had the pleasure of interacting with some of the very successful and esteemed alumnae of the school. Separate sessions were conducted for the Science and the Commerce and Humanities Streams. The Science students had the opportunity to listen to
Ms. Devi Narayan (MBA-Manchester Business School), Ms. Nisha Mariam Johnson (Business Development Manager at Synopsys, California), and Dr. Vaishnavi Ramesh (MBBS, PSG Institute of Medical Sciences) while Ms.Sana Meraj (Finance Controller at Wamda Group, UAE), Ms. Amal Shiyas(Assistant Editor at fiftytwo.in) and Ms. Alveera Sheikh (Rewards Consultant at Aon, UAE) addressed the Commerce and Humanities students.
The alumnae spoke at length about their fields of expertise, shared personal anecdotes from their school and college years, and advised the students on future education and career choices. They answered all the students' questions with patience and passion, and provided them with confidence and reassurance to tackle the challenges that lay ahead. They pointed out that life is too short for regrets and that one should grab any and all opportunities that come in one's way. The students were encouraged to find their calling and choose a career based on their interests and skills set.
The senior students found the session extremely helpful and were grateful to the school for providing them with such an opportunity. While the road forward remains a mystery, OUR OWN Alumnae gave the students enough determination to keep striving and create their own destiny.