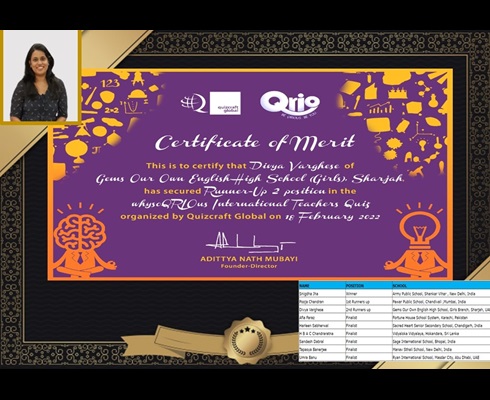 WhysoQRIOus International Teachers Quiz
WhysoQRIOus International Teachers Quiz
For someone always looking for greater challFor someone always looking for greater challenges, quizzing is certainly one of her favourite pastimes! We are proud of our Teacher
Ms. Divya Varghese of KG2, OOS for bagging the 3rd position in the 'WhysoQRIOus International Teachers Quiz', conducted online on 18th February 2022.
Unlike the first edition, the second edition of this event moved beyond the national borders, resulting in the participation of a whopping 600 participants at the preliminary levels. With 8 participants zeroed down for the final rounds, the 'edge of the seat' grand finale was set ablaze by the quiz master Mr. Adittya Nath Mubayi of 'Quizcraft Global Knowledge Solutions, captivating the audience with his challenging questions.
The finale concluded with Ms. Divya winning the 3rd position. 'Being part of a stupendous event and sharing space with erudite people was an exciting experience in itself', says Ms. Divya.
An avid reader with an intrinsic ability to keep abreast with the current topics, Ms. Divya has participated in many quiz competitions, including the 'Look Who's Answering' quiz conducted annually at OOS. We wish her many more accolades in the future.