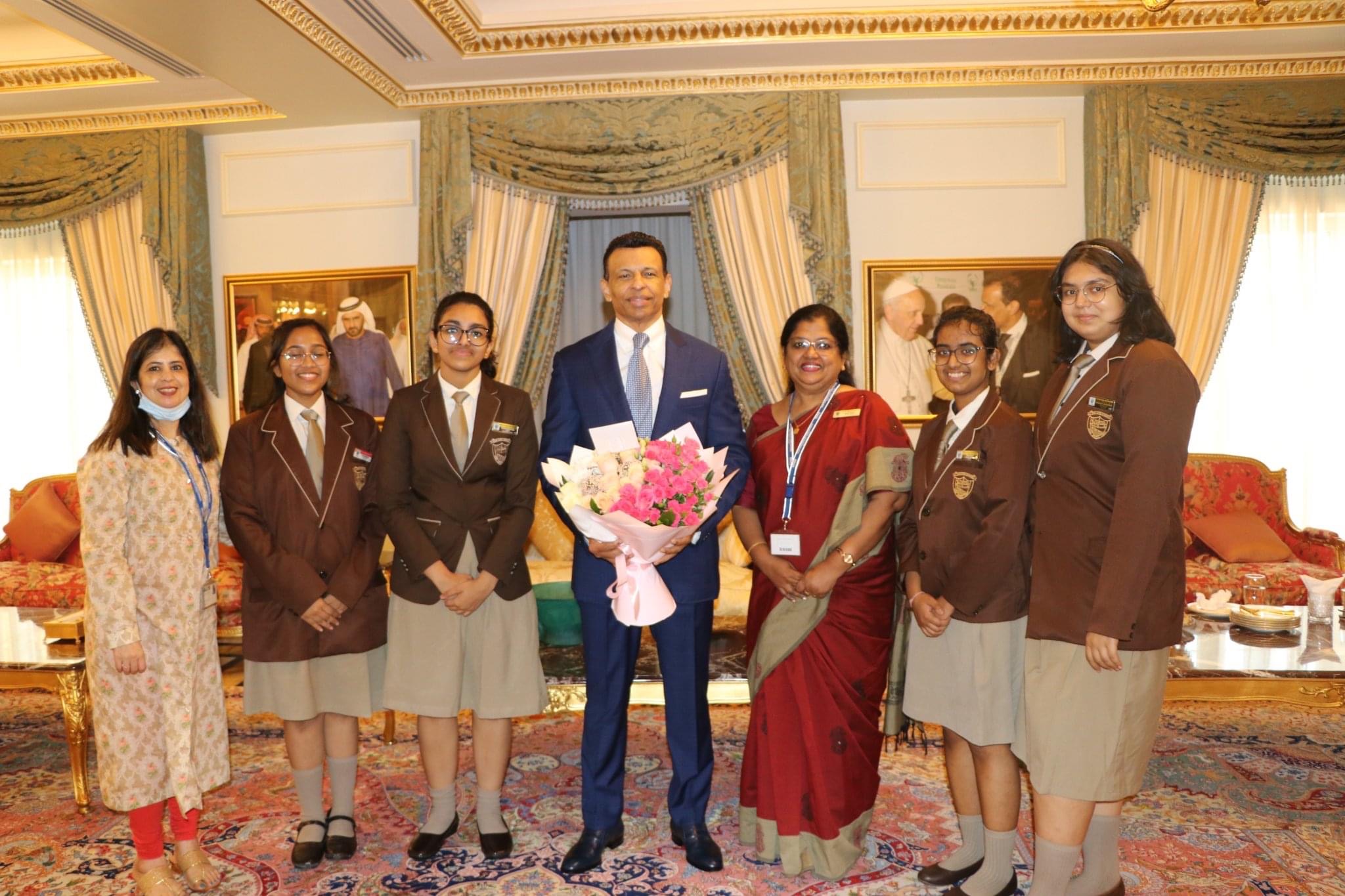 Cryptic Connections to Successful Leadership
Cryptic Connections to Successful Leadership
The student Leaders and staff of OOS, ostensibly, went to invite the Chairman of GEMS Education for their landmark 40th anniversary. However, the images of 12th May 2022 will be their most prized memorabilia in the archives of their lifelong memories as they walked away with cryptic connections to successful leadership.
Head of Senior School Ms. Rachel Pereira , was touched by the simplicity of such a motivational leader, in her words - "Not everyone gets a chance to meet the visionary leader of the company GEMS, Mr Sunny Varkey. I had the privilege to have a one-on-one conversation with him which was truly motivational. I could not help but express my immense gratitude for giving me the opportunity to work at OOS and grow personally and professionally over the years. My journey continues to be challenging, yet meaningful as I strive to contribute towards the success of the school. I was really moved by his simplicity and easy behaviour towards us, which made us feel very much at home and comfortable.
'Thank you, Sir, for being Our Own Leader!!!' Ms. Rupali Dhavalikar of Kindergarten, concurred with her sentiments.
Cryptic Connection No. 1 : Simplicity is the key to success
Student leaders were greatly impressed by the passion and drive of Mr. Sunny Varkey:
Brahmishtha Bhattacharjee- Head Girl @ OOS -I feel very privileged to be able to meet Mr. Sunny Varkey, the Chairman of the GEMS group. He has a very humble and charming personality and he engaged us in a conversation and made us feel comfortable. He gave us valuable advice so that we can make a positive impact on society in the future. He also spoke highly of our school which made me feel proud of being an Ourownite. I am incredibly grateful for this opportunity and this once-in-a-lifetime experience.
Iditri Dutta – Well-being Ambassador @OOS- It was genuinely an honorable experience meeting such a visionary leader. Mr. Sunny Varkey's wise advice, and his charismatic yet humble personality left us all in awe. It was certainly a golden opportunity for young students like us.
Cryptic Connection No. 2: Great leaders value every member in their teams
Amanda Rachel Biju –President Student Council @OOS- I consider it an extreme honour and privilege to have met one of the most visionary education entrepreneurs of our time. I was awestruck by his simplicity and humility, despite being a titan in the education sector worldwide. Mr. Varkey's vision and passion to provide quality education, access to free education and a One World Curriculum were truly inspiring to hear. His advice for our young generation was to aim for the stars and never give up. This was a once in a lifetime opportunity that will be memorable for the rest of my life.
Cryptic Connection No. 3: Aim for the stars but stay grounded in reality
Meeting great leaders is an enriching experience as you always gain some pearls of wisdom that help to shape you as a better person and perhaps, a changemaker who makes a positive impact on society for a better tomorrow