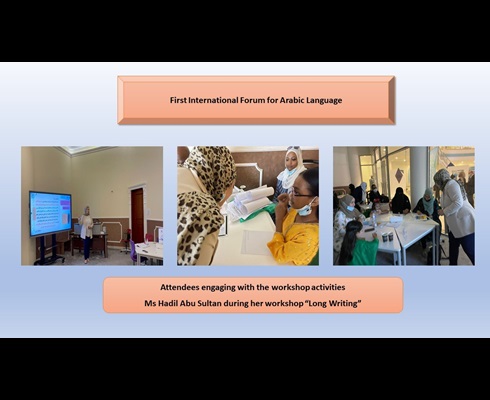 First International Forum for Arabic Language
First International Forum for Arabic Language
The conference was graced by His Highness Sheikh Sultan bin Muhammad Al-Qasimi, Ruler of Sharjah
. The festivities started with the national anthem. Dr Khalid Hussein Abuamsha, member of the Arabic Language International Council, Dr Mohammed Safi Mostaghanemi, Secretary General of the Arabic Language Academy and Mr. Ali Al Hosani, the Director of Sharjah Private Education
Authority (SPEA) all addressed the gathering. The opening ceremony concluded with a speech by His Highness Sheikh Sultan bin Muhammad Al-Qasimi, stressing the importance of shedding light on the Arabic language and making it a top priority in all schools. His Highness then proceeded to honor the speakers with shields.
Following the opening ceremony, His Highness Sheikh Sultan bin Muhammad Al-Qasimi took a tour to see the activities presented by students from various Arabic schools, especially the Souk Okaz, which is where authentic Arabic poetry was recited.
Ms. Ghada Riad – Member of Lisan Al Dad Committee. and Arabic Supervisor of Our Own English High School Sharjah Girls, the only Indian school invited to present a workshop for the Arabic Forum, facilitated the workshop presented by Ms. Hadil Abu Sultan titled "Long Writing". Throughout the workshop, a series of activities were carried out successfully and the attendees highly commended her lively workshop.