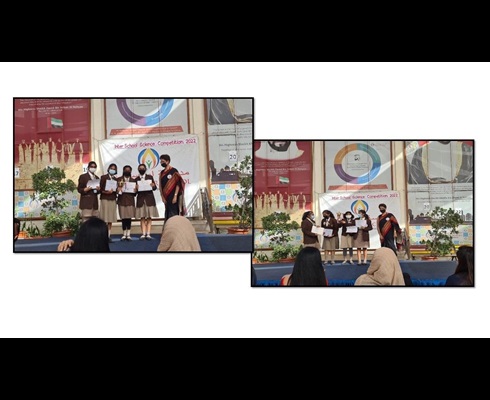 Young Science Innovator 2022
Young Science Innovator 2022
"'Innovation is the ability to see the change as an opportunity-not a threat'- Steve Jobs
'Young Science Innovator 2022' competition was organized by the Ambassador School Dubai on 25th May 2022.
The theme for this competition was 'Clean Technology- Innovation for a safe future'. There were178 participants from various schools across the UAE. Our students from Primary, Middle School and High School participated in the various events in the competition. Middle School team represented by
Shonali Ghosh-8D, Anwesha Chowdhury-8L, Maryam Imran- 7J and Avani Pramod -6B bagged the 2nd prize for the event, SciCity - Lego Challenge based on the theme 'Building a nature inspired city'.
T
wo teams from the High school represented by Vaisuruthi Mahendran Radha-10C, Shikha Chirag Shah-10C, Dyuthi-10C, Zenia-10C and Caroline Mariam Boby-9J, Aleena Preetha Manu-9K, Rithika Brijesh-9K, Rinki Prasad-9J bagged the 2nd and the 3rd prize respectively for the event SciEnviro Projects
based on the theme 'Innovative Clean Technology for an Environmental Issue'. The competition provided the students with an indelible learning experience and encouraged them to explore, innovate and create futuristic designs and models."